Interview with Kai Behrmann, originally published in January 2014 on topphotographyfilms.com in two parts.


Brief artist statement: I'm a photographer with both commercial and artistic practice. Commercially, I undertake mostly architectural, editorial and documentary-style work. Recent personal projects have explored the importance of leisure and everyday activities in forming communities and relationship to place.
Kai Behrmann: Where did you study photography?
Richard Aldred: I have an undergraduate degree in Commercial Photography from Liverpool John Moores University, and a postgraduate degree in Photography from the University of Bolton.
KB: Why did you become a photographer, and what does photography mean to you?
RA: It was initially a portable hobby while I travelled with work. As my interest and ability developed, it became a medium to share my interests and my way of seeing, and, more recently, my job.
KB: A photographer has many tools at hand to bring across his message: lenses, lighting, framing, color treatment etc. Can you elaborate a little bit on the techniques you used for this particular project in order to link form and content?
RA: With practice, the technical choices become almost second nature. I selected some of my lenses to render scenes in particular ways, but, having bought them, this isn't a frequent consideration.
I make photographs in quite a slow, considered way. They have a sense of authorship – they are made following the same approach, and represent the interests I find in places. This shared view, and consistencies of light and colour palette help make each series feel cohesive.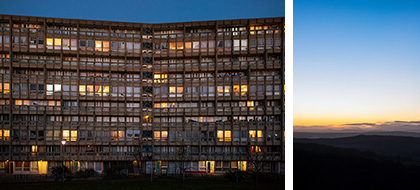 This is a potential pairing from my current project, Lesser Monuments. I'm not sure whether I'll use it yet, as it could be considered to be making negative social comment, which I don't intend. The link is more abstract. Each has a quietness and a large scale, one of width and size of barrier obstructing view, and one of depth.
KB: How would you describe your photographic language and creative process?
RA: Initially, I was self-taught and had the freedom and time to develop my own interests. I look at a lot of photography and visual art. This refined (and continues to develop) my ideas about how I want to represent my subjects, and I took a course to ensure I had the technical skills to realize these visual ideas. I then took another course to strengthen my theoretical knowledge and ability to discuss my work.
I make most of my photographs while walking or cycling. I see a scene to which I respond, and then find the particular angle and distance to subject which best convey what interests me about it.
KB: What reaction do you intend to provoke in people looking at you photos?
RA: The photographs take life as their subject and are the result of sustained seeing. I want people to recognize a similarity with the places they experience daily and have a more vital experience, seeing more and enjoying more in their daily lives.
John Szarkowski commented on this in the introduction to William Eggleston's Guide:
"It would be marvelous ... if the place itself, and not merely the pictures, were the work of art. It would be marvelous to think that the ordinary, vernacular life in and around Memphis might be in its quality more sharply incised, formally clear, fictive, and mysteriously purposeful than it appears elsewhere, endowing the least pretentious of raw materials with ineffable dramatic possibilities." (Szarkowski in Eggleston, 2002, p5)
It is possible for people to see like this, because seeing is the learned skill at the centre of photography. What people respond to varies: it might be an activity represented, atmosphere, type of place – and this could be from a familiarity or a contrast with their experience.
KB: Which photographer has inspired you most? In what way?
RA: I'm pleased that you asked about inspiration rather than influence. Joel Meyerowitz and Juergen Teller both stand out. The interests Meyerowitz finds in places and how he represents them particularly appeal to me. Conversely, Teller sees in a very different way to me; I don't see what he does in a place before he photographs it, but his images make perfect sense and are very attractive. I admire the range of photographs he makes effectively, and he inspires me to do more, in life and photographically.
KB: What's your favorite inspirational quote about photography? By whom?
RA: I don't have a particular favourite. John Szarkowski, Joel Meyerowitz, and Robert Adams all write very well. This one is from Robert Adams:
"Among the best things about photography is that by its nature it has to begin with specific cases. A tree is first of all wonderful as the particular tree it is. If it doesn't live for us in that way then it's not going to take us further. Though eventually, yes, a tree does point beyond itself. And our experience of it is enriched by associations and intuitions." (Adams in Brown, 2006, petertbrown.com)
KB: What kind of camera and equipment do you use?
RA: Most of my work is digital for speed of turnaround, but I use various film formats where conceptually appropriate, I want the visual qualities of a particular film stock and development process, or I intend to make a particularly large print.
KB: What's your favorite website about photography?
KB: What book about photography would you recommend? Why?
RA: Joel Meyerowitz: Creating a Sense of Place
The text takes the form of an interview by Constance Sullivan. It discusses Meyerowitz' approach to photographing place, and why his practice developed from 35mm street photography to his later 8"x10" work. The language is very accessible – something I strive to achieve when talking about photography – but offers a lot to consider.
KB: Your current project is called Lesser Monuments. What is it about and why did you decide to take on that subject?
RA: Individually, the photographs are representations of the specific places before the camera, but cumulatively they evoke a broader atmosphere and sense of familiarity. Similarities of light and colour provide a framework for a more impressionistic take on the visual index.
Monuments are normally buildings or statues erected in recognition of a notable person or event, while the buildings shown here can be considered monuments to the familiar and the everyday.
It builds on previous project A Better Light, which was made in a small inner city area, and my MA research into changing perceptions of place in photography.
KB: What comes first: the idea for a series or single images that at some point fit and fall into place to form a particular body of work?
RA: I have an idea for a project and make photographs as part of it.
I also make individual photographs when the opportunity presents itself, and periodically consider what use these might have.

KB: What do you think is important to stand out with one's work? Especially keeping in mind the over abundance of photographic imagery in today's society.
RA: It's important to have something to say, and for one's photographs to clearly show it. This could be a very subtle viewpoint; it needn't be campaigning.
Few photographs shared online (where this proliferation is greatest) have a clear interest, and they seldom have a caption or context to help determine one – the photographer concentrated on achieving a look. It's fine for someone to have that interest, but it's very different from what I seek to do or wish to look at.
KB: Philosopher Susan Sontag said, "The camera makes everyone a tourist in other people's reality, and eventually in one's own." How has photography changed the way you look at the world and what have you learnt about yourself?
RA: The quotation's accurate. One experiences place differently through photography. One must abstract oneself away in considering what of the experience one seeks to represent and how to achieve that. The focus is on seeing rather than doing. This isn't to say that one doesn't experience a place or activity when photographing, just that it is experienced differently. It's also inclusive, as, when I'm photographing, people frequently express interest and ask me what I've seen.
Photography allows me to indulge my own interests more than I could otherwise, be this reading, looking at art, or exploring my surroundings.
KB: Every photographer is going through different stages in his formation. Which "landmarks" do you recall that have marked you and brought you to the place where you are today as a photographer?
RA: Certainly my interests have changed over time.
I initially concentrated on making effective single images. Later, I wished to show more and sought to edit existing photographs into series, then soon began making work as deliberate, researched projects.
I already knew quite a lot from my own experimentation, but studying Commercial Photography strengthened and formalized my knowledge. MA Photography allowed me to dedicate time to a personal project and to research ideas I'd been considering for some time, and gave me a lot more confidence to discuss my work as art and seek opportunities to share it.
Beyond this, I'm continuously improving and moving forward; I'm not as interested in my work of a few years ago, which I found exciting at the time.
KB: Which advice would you give someone who wants to get started with photography?
RA: Contact photographers whose work you like. Many are very accessible, and are happy to answer questions and give comment.